How do we describe this motion?
Remove unnecessary detail and just concentrate on his path.
Let's consider his motion from his high point, downwards.
To make it easier to see, let's color code aspects of this motion.
Blue = actual path of an object
Green = horizontal motion
Red = vertical motion
Look carefully at how the green (horizontal) dots are spaced and how the red (vertical) dots are spaced. What does this spacing tell us?
As time goes by, what (if anything) happens to the green dot spacing? What does this mean?
As time goes by, what (if anything) happens to the red dot spacing? What does this mean?
How can we use math to describe such motion?
Allow me to introduce Despicable Me's

Vector
Vector's let us break motion down into X (horizontal) and Y (vertical) components.
For three dimensional motion vectors can break motion into X, Y and Z components.
Here's an object (the black dot) located someplace in space. Note how we can describe it's position with just three numbers.
For most of this class, just to keep things simple, we'll consider objects that move in a plane (along a flat surface,) like this:
Okay, so let's get into the details of how vectors work, in two dimensions. Our lesson is here:
What happens when we add motion to motion?
In this case a student kicks a ball forward – but at the same time he was on the back of a truck moving forward at a high speed. What is the resulting motion of the ball that he kicks? We need to add both of these motions together!  The technique is called vector addition.
What is happening here?
The horizontal (sideways) component of motion is independent of the vertical component.
Vectors – Motion and Forces in Two Dimensions
Lesson 1 – Vectors: Fundamentals and Operations

Lesson 2 – Projectile Motion

Lesson 3 – Forces in Two Dimensions
Apps and interactives
Firing a projectile on a flat surface
Firing a projectile on a curved surface…like the Earth!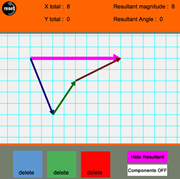 Vector Addition
Applications!
Vector addition is used when sailboats sail against the wind.
Vectors let us analyze all forms of parabolic motion, such as any kind of jump.
The motion of all particles from a fireworks explosion all trace parabolic paths! Vectors let us analyze this.
Related math topics
How to draw a parabola. For some of the problems that we see here in class you can do the same thing, but have the parabola face in the opposite direction.
Learning Standards
Massachusetts Science Curriculum Framework
1. Motion and Forces: Central Concept: Newton's laws of motion and gravitation describe and predict the motion of most objects.
1.1 Compare and contrast vector quantities (e.g., displacement, velocity, acceleration force, linear momentum) and scalar quantities (e.g., distance, speed, energy, mass, work).
NGSS
Science and Engineering Practices: Using Mathematics and Computational Thinking
Mathematical and computational thinking in 9–12 builds on K–8 experiences and progresses to using algebraic thinking and analysis, a range of linear and nonlinear functions including trigonometric functions, exponentials and logarithms, and computational tools for statistical analysis to analyze, represent, and model data. Simple computational simulations are created and used based on mathematical models of basic assumptions.
Apply techniques of algebra and functions to represent and solve scientific and engineering problems.
Although there are differences in how mathematics and computational thinking are applied in science and in engineering, mathematics often brings these two fields together by enabling engineers to apply the mathematical form of scientific theories and by enabling scientists to use powerful information technologies designed by engineers. Both kinds of professionals can thereby accomplish investigations and analyses and build complex models, which might otherwise be out of the question. (NRC Framework, 2012, p. 65)
Students are expected to use mathematics to represent physical variables and their relationships, and to make quantitative predictions. Other applications of mathematics in science and engineering include logic, geometry, and at the highest levels, calculus…. Mathematics is a tool that is key to understanding science. As such, classroom instruction must include critical skills of mathematics. The NGSS displays many of those skills through the performance expectations, but classroom instruction should enhance all of science through the use of quality mathematical and computational thinking.
Common Core Standards for Mathematics (CCSM)
High School: Number and Quantity » Vector & Matrix Quantities. Represent and model with vector quantities.
Represent and model with vector quantities.
Perform operations on vectors.
American Association for the Advancement of Science
AAAS Benchmarks (American Association for the Advancement of Science)
.